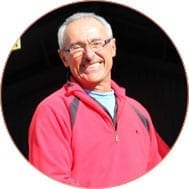 Joe Valenti
Community Ambassador
A friend of the Morello family for almost 40 years, Joe Valenti is a committed Community Ambassador. He has dedicated himself to the Family Reach mission in honor of Kristine, who both babysat his stepchildren and introduced him to his wife. Joe stated, "When I think of Kristine, I think of how she lit up a room. This foundation lights up people's lives in their darkest hours."
Dedicated to a healthy lifestyle through physical fitness, Joe has not only been involved in the New Jersey spin events, but has also brought tremendous energy to the 5K and Family Fun Run for the past 6 years. As a committee member, he has worked diligently to procure sponsors, giveaways, etc, ensuring the success of these events. No task is too big or small for Joe.
Recognizing the need for Family Reach to strengthen relationships with hospitals, Joe volunteered to help out before Family Reach had a social worker on staff, providing more cohesiveness on a daily basis and doing on-site visits. For Joe, "This is a labor of love. It is the most rewarding thing I have ever done in my life. I am so proud to be involved in it."
Joe Valenti is a pharmacist who resides in New Jersey.