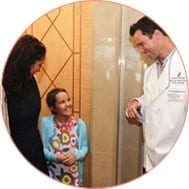 Jeffrey Donovan
Celebrity Ambassador
Jeffrey Donovan began his Family Reach journey as a Celebrity Sous-Chef with Ming Tsai at Cooking Live! New York in 2013. Ever since, he has become an incredible force for our mission. Jeffrey provided funds to expand our mission to Colorado and organized our first event in Denver, Cooking Live!, on April 1, 2014. The accomplished actor joined our National Advisory Board to assist in guiding the strategic growth of our mission and our organization.
Born in Amesbury, Massachusetts, Jeffrey has developed a successful acting career in theater, TV, and on the big screen. His most notable appearance is as Michael Westen from the long-time USA Network series, Burn Notice. Some of his more recent film roles include Robert F. Kennedy in J. Edgar, Captain J.J. Jones in Changeling, and Vance Munson in Hitch. He found his calling in acting at a young age after starting a drama club, and worked his way to earning an MFA from New York University's Graduate Acting Program at the Tisch School of the Arts.
For the latest updates on Jeffrey Donovan, follow him on Twitter.