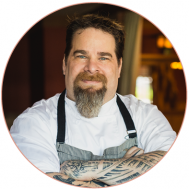 Eric LeVine
Chef Ambassador
While most kids were playing with action figures, Eric was in the kitchen testing and tasting recipes.  As a youngster growing up in Brooklyn, New York, Eric found excitement, challenges and passion in his favorite place—the kitchen.
His childhood love became his career path and purpose.  He studied at The Culinary Institute of America in Hyde Park, New York and soon after graduation, worked under celebrity chef David Burke at the River Café.  He credits this experience with sparking his creative artistry with food.
Chef Eric believes that food speaks a universal language. To become a truly accomplished chef, one must be aware of the styles from other cultures. Working with Chef Jean-Louis Le Massion from Le Petite Café , he learned how to finesse the romance of a dish.  From his tenure with Chef Giovanni Brunell from Il Tratattoire da Familia, he learned how to infuse passion and robust flavor into his cooking.  From there, he studied with Master Chef Lee Ho of Otani where he learned how to meld old-world practices with modern cuisine.
The world took notice, as Chef Eric became Chef de Cuisine at the famed Marriott Marquis in New York City.  Chef Eric continued to incorporate internationally flavors while introducing new techniques to his preparation and presentation. The James Beard Foundation recognized Chef Eric for his contributions to the gastronomic culinary scene in the United States. He was also invited 5 times to host a dinners at the James Be­ard House in New York, the first internationally recognized catering chef to be given this prestigious opportunity.
Chef Eric has made numerous appearances on The Food Network where he became the 2011 Champion of Chopped and appeared on Beat Bobby Flay.
Chef Eric is Chef/Partner at Morris tap and Grill, Paragon Tap and Table, Chef Eric's Ravioli Revolution and Partner in H3 a hydroponic farm.
A five-time cancer survivor, Chef Eric knows the importance of a support circle in fighting this life-threatening disease.  He advocates for the American Cancer Society and has been recognized with their prestigious Heart and Soul Award. Paying his good fortune forward is at the heart of Chef Eric's work and he has supported Family Reach in many ways since we crossed paths with him years ago. He is a regular at Cooking Live! and hosts fundraisers at his restaurants.