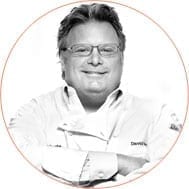 David Burke
Chef Ambassador
Chef David Burke became an advocate of Family Reach after cooking for an inspiring, 11-year-old cancer survivor, Veda, at Cooking Live! New York in 2013.
David Burke has created his own brand of restaurants that showcase his whimsical take on refined American cuisine, including David Burke Townhouse in New York, David Burke Prime in Chicago, and David Burke Kitchen at The James Hotel New York. He was inducted into the Who's Who of Food and Beverage in America by the James Beard Foundation for his years of achievement in the industry, and has been honored with Japan's Nippon Award of Excellence, 2 Robert Mondavi Awards of Excellence, and the Culinary Institute of America's Augie Award.
Visit David Burke's website for more information.