What We're Reading: 5 Perspectives on Today's Cancer Patient Experience
Even after 25 years of helping families overcome the financial burden of a cancer diagnosis, Family Reach is always learning. This ensures we can continue meeting patients where they're at with the most helpful financial support.

This year, we're serving a cancer community that's facing significant effects from the COVID-19 pandemic, shining a light on the disparities in cancer care, and finding silver linings along the way.

Here's a taste of what we're reading, watching, and listening to that's enhancing our understanding of what cancer patient experiences are like today.
When the pandemic forced everyone indoors, appointments for preventative measures like cancer screenings and mammograms plummeted. People feared risking COVID-19 exposure or worried about the consequences of missing time from work.
Today's result is "a violent flood [that[ has begun to recede, exposing the wreckage left in its wake."
This article portrays this harsh reality through Teresa's story. She's a single mom of three who was diagnosed with stage IV inflammatory breast cancer after months of ignoring the warning signs so that she could keep working her long-time factory job. Her son Sergio translates between Spanish and English for his family, drives his mom to and from treatment, and contributes as much income as he can.
After a healthcare disruption of COVID-19's magnitude, Teresa's story is a heartbreaking example of the aftermath that's beginning to reveal itself.
This article from SurvivorNet also details the developing crisis of undiagnosed cancer, referencing recent research published in Jama Oncology that reported nearly 10 million missed cancer screenings in the United States over the past year. With this data in mind, SurvivorNet reminds its readers about the importance of cancer prevention methods and includes video interviews with oncologists about prioritizing screenings.

As hospitals and care centers open for more regular business, the hope is that screenings and check-in appointments will be on the rise so that patients can avoid the more intense symptoms, treatment plans, and side effects of a late-stage diagnosis.

Learn more about preventative cancer care.
The pandemic shined a light on race-based disparities in healthcare, and cancer care is no exception. This insightful piece from Health.com leans on expertise from professors, oncologists, and researchers to break down why women of color have lower rates of cancer diagnoses, but higher rates of cancer-related deaths.

The featured experts explain that Black, Hispanic, and Indigenous women face unique roadblocks to accessing healthcare, including discrimination, systemic racism, social determinants of health, lack of health insurance, and cost challenges. Many of these roadblocks are out of their control, yet the result is little to no preventative care, which means women of color are often diagnosed at later stages and face lower chances of survival.

The ways to address these gaps in cancer care include lessening the financial burden of a diagnosis, improving access to screenings, prioritizing diversity in clinical trials, diversifying workplaces that serve the cancer community, and increasing outreach to communities of color.

Find out more.
In this interview with Cure Magazine, Joanna Fawzy Morales, Esq., CEO of Triage Cancer, shares her perspective on financial toxicity and early intervention steps that can help patients avoid the financial burden of cancer. Her advice for those who are newly diagnosed with cancer includes "understand[ing] what all of their rights and options are before making decisions because sometimes quick decisions get made in a moment of crisis, but people find out down the road that it wasn't the best option for them or there were other things that could have been helpful."

Joanna's conversation with Cure Magazine aligns with the topics she spoke about at our Imagine Cancer Equity Series earlier this year when she joined a panel of thought leaders from various industries to discuss how we can leverage collaboration to reduce disparities in cancer care. Joanna specifically highlighted the importance of patient education and equitable access to the information that will alleviate financial burdens during their cancer journey.

Learn from Joanna's insight.
This documentary tells a story that Family Reach knows well: the financial crisis of cancer. With a focus on credit unions, the goal of the project is to help professionals in the finance industry understand this financial crisis hiding in plain sight and empower them to better serve cancer patients with their expert guidance.

Our very own CEO Carla Tardif and Board of Directors Member Dr. Yousuf Zafar are both featured in the first act, and we're tuning into the rest of the series to learn more from the patients, caregivers, and thought leaders who were interviewed for the project. The link between health and wealth is critical to the work we do, and we're committed to listening to the voices that can help us improve our Financial Treatment Program and better serve the cancer community.

Watch the series here.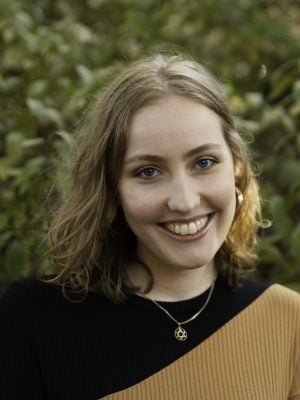 Senior Creative and Brand Manager • Family Reach Team
Always walking the fine line between her right and left brain, Stevie brings her creative and strategic thinking to her role as Senior Creative and Brand Manager. Her work amplifies Family Reach's voice and brings attention to the financial impacts of a cancer diagnosis.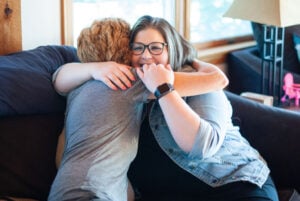 Help caregivers like these support their families during cancer treatment.
Read More »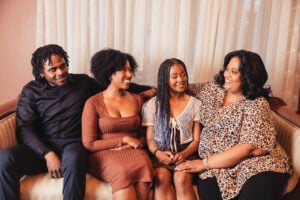 Nicole shares how Family Reach offered not only financial support during cancer treatment, but also a community.
Read More »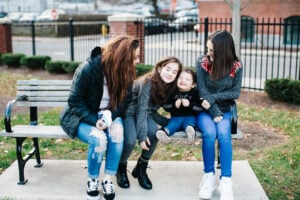 Find out how partners like AbbVie and the AbbVie Foundation help us scale, challenge the status quo, and invest in a better system for people with cancer.
Read More »
Sign up for Email Updates