National Volunteer Week may be coming to an end, but our appreciation for those who dedicate their time and energy to our mission will never fade. To continue our volunteer blog series, we are excited to highlight Jean Monopoli.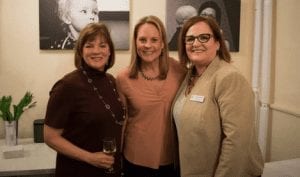 Jean is a proud Women's Council member and Family Reach volunteer. In addition to the council meetings Jean attends, she regularly visits our Boston-based office to lend a hand wherever needed. Her help has played an integral part in ensuring many events and campaigns run smoothly and her positive energy always brightens up our days! Read our short interview with Jean to learn about her experiences and motivation behind all she does.
How did you hear about Family Reach?
I heard about Family Reach while having dinner with some of my friends. My friend Susan had just gotten a new job working as the Foundation and Donor Relations Manager at Family Reach. She told me about their mission and how they help families by alleviating the financial burden of a cancer diagnosis.
What sparked your interest in working with Family Reach?
In the past, I have donated to several charities and have also participated in many walks to raise money. When I learned about Family Reach's mission, I decided to focus on one charity and give it my all.
I lost my mom, mother-in-law and father-in-law to cancer. My dad is a four-time survivor. We have been very fortunate to have not faced the financial burden many families struggle with.  It is so very difficult to deal with the stress, sickness, treatment, heartache and also worry about heat, food, rent, transportation or even a place to sleep. That is the reason why I chose Family Reach.
What has been your favorite part about working with Family Reach?
The staff is amazing and so dedicated to the cause and the families they serve. They are like a family. You can tell this is very personal for them and they are never truly off the clock. They are always brainstorming, working weekends, putting in extra hours and traveling.
When I am in the office I love to listen to the new ideas they have come up with to help their families. I also love to hear the success stories of the children and families we help. Every time I hear that a family has been placed in a home, bills were paid, food was put on the table and recoveries have happened, my volunteering is made worthwhile.   
What is one of your favorite Family Reach memories?
Over the last year, I have many special memories from my time working with Family Reach. During the holidays, I love to see pictures of our families opening gifts that were made possible through our Hope for the Holidays program.  
Also, learning about Racquel and Mikalo was a special moment. Mikalo's cancer required him to need a bone marrow transplant. Unfortunately, at the time, him and his mom were living in a shelter and the doctors said he would not be able to receive this life-saving treatment due to their living conditions. Fortunately, Family Reach helped get Mikalo and Racquel out of the shelter and into an apartment, allowing Mikalo to receive his transplant. Seeing him today with such health, love and support brings me the greatest joy I could ever ask for.
Do you want to get involved and help our families get to the other side of cancer? Join us.
Sign up for Email Updates