This year, we are grateful to have a dedicated group of runners representing Family Reach in the Boston Marathon. Each runner has been paired with a Family Reach family who has faced the financial burden of battling cancer. We are grateful to John Hancock, who provides over 1,000 Boston Marathon bibs to select non-profits throughout the community. In 2015, John Hancock & Boston Athletic Association runners raised more than $28.3 million for over 120 different non-profit partners. This year, Family Reach received 4 bibs and Tom, Rich, Brianna and Jacqui will be running to raise funds in support of the children and families we serve. Thank you John Hancock for making this possible!
Come back next week, to meet the rest of the Family Reach team with Part Two of our blog: Seven Runners, One Cause: Meet the Family Reach Team
Meet Jacqui: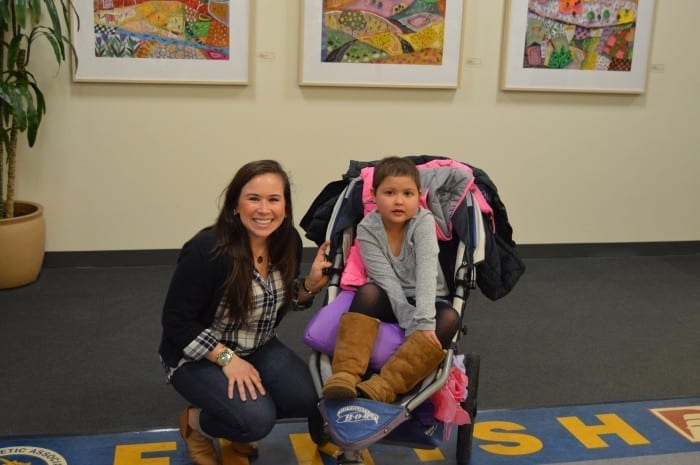 Shown above: Jacqui and Ella
Jacqui has been dreaming about running a marathon since she was a kid. After finding inspiration from her mom, who ran 7 marathons, Jacqui was moved to run 3 marathons to train for the upcoming Boston Marathon. Jacqui is excited to be part of the Family Reach team, and she is enthusiastic about helping to raise funds because she believes strongly in helping families that have been impacted by the financial burden of cancer.
Jacqui is thrilled to be running on behalf of Ella and her family. After having the opportunity to meet Ella, who was recently diagnosed with Leukemia ALL, the two became fast friends. Jacqui was thrilled to find out that Ella and her family live in the same town where she grew up. After dedicating herself to training for the marathon, Jacqui is eager to run in this year's marathon on behalf of Family Reach and Ella and her family. Learn more about Jacqui and Ella.
Meet Hector: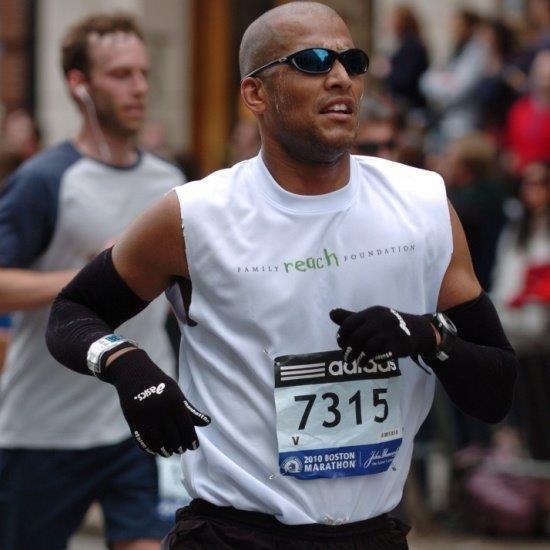 Shown above: Hector running for Family Reach.
Hector is passionate about running, and he has run 12 marathons. He looks forward to running the Boston Marathon this year as a part of the Family Reach team. Hector believes strongly in raising money for pediatric cancer, and he is happy to be matched with Katrina and her family this year. Hector is inspired by Katrina's strength and commitment to healing, and he looks forward to supporting them by running in the marathon this year.
Katrina, diagnosed with Pre-Cell Acute Lymphoblastic Leukemia in 2015, is 10-years-old. Since her diagnosis, Katrina has been courageously fighting cancer with the support of her adoring family. Hector, moved by her brave fight against cancer, can't wait to run in this year's Boston Marathon on behalf of Katrina and her family. Learn more about Hector and Katrina.
Meet Brianna: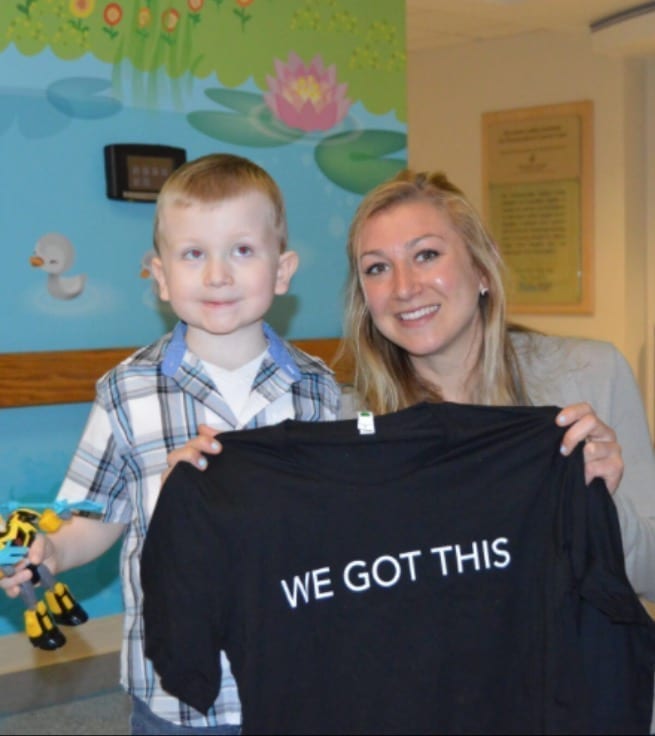 Shown above: Brianna and Dalton
It has always been a dream for Brianna to run the Boston Marathon. After her sister, Nikki, was diagnosed with stage 2 breast cancer, Brianna witnessed firsthand the physical, emotional and financial implications of her sister's diagnosis. Inspired by her sister, Brianna is excited to do something she's always wanted to do: run her first Boston Marathon for a cause that she believes in.
Brianna is running for Dalton, a brave 4 year-old boy who has been battling Leukemia since last April. Dalton will need at least 3 years of treatment. Brianna, touched and inspired by Dalton and his family, is looking forward to being more than a spectator in this year's marathon. This year, she looks forward to crossing the finish line for Family Reach. Learn more about Brianna and Dalton.
Meet Tom: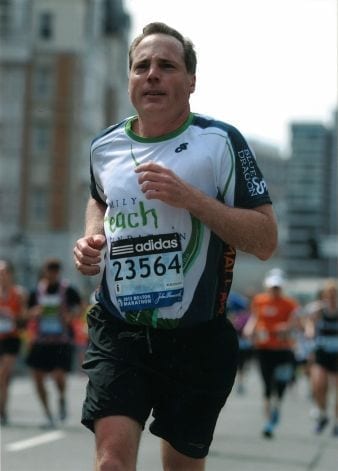 Shown above: Tom running for Family Reach.
Tom is an avid runner and serves on the Family Reach National Advisory Board. He has been running for years, and he is looking forward to seeing his daughter at her college as he runs through the area as part of the Boston Marathon. Tom is excited to join Family Reach for this year's Boston Marathon, or as he calls it: "the granddaddy of all marathons."
This year, Tom is running for Lauren. Lauren is 2 ½ years old, and she was diagnosed with Leukemia. Tom is touched by the proactive way Lauren's parents are embracing the challenges of Lauren's cancer as well as the family's tenacity and strength. Tom feels fortunate to be able to run the Boston Marathon this year for Lauren and her family. Learn more about Tom and Lauren.
Stay tuned to www.familyreach.org to meet the rest of the team and hear their stories!
Sign up for Email Updates