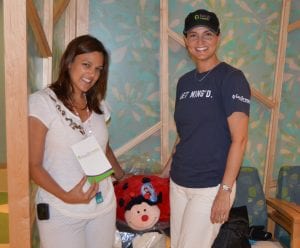 At Family Reach, we are proud of our ability to step in and provide families with tremendous, tangible relief by directly paying a mortgage, car payment or rent, stabilizing their basic human needs while they focus on fighting cancer. But there is a quieter need faced by thousands of cancer caregivers across the country that Family Reach is committed to addressing, too. Every day, we see families simply unable to pay for groceries, gas or the daily parking fee at the hospital while their child is undergoing treatment.
To meet the need of these families, we created a gift card program, distributing Family Reach branded Visa gift cards directly to oncology social workers who can support patients in this additional way. This financial assistance may come on a smaller scale, but the impact it makes is just as important.
"Many of our families travel a long distance to access treatment for their child, as our hospital covers a 14 county area of Western Florida. These families were all so relieved when presented with your assistance." – Debra Hansen, Social Worker, All Children's Hospital, Tampa, Florida.
In 2015, $72,000 helped over 700 families. Over the past two years Family Reach has increased the gift card program by 33% and increase the average gift card amount to make a larger impact and carry families through for a little longer. In addition to food and gas, our social workers also highlight the importance of allowing families to maintain a sense of normalcy by buying their child a birthday present without feeling guilty as they struggle to pay every day bills.
"Gift cards are a lifesaver! They've helped me pay for anything from my car payment, to parking at the hospital or dinner on the table. This emotional and financial support has essentially gotten us through six years of cancer. Words cannot express my gratitude." – Shauna McLaughlin, Family Reach Gift Card Recipient, Family Council Member.
To support Family Reach's efforts in providing relief and stability to families fighting cancer, visit www.familyreach.org/donate.
Sign up for Email Updates