This Childhood Cancer Awareness Month, we're honoring the young heroes who inspire the work we do every day. Seventy-six percent of the patients Family Reach served in 2016 were under the age of 18. We share the following story to give these families a voice and raise awareness of how we can work together to help them get to the other side of cancer.
My name is Kya and I'm a 13 year old from Brooklyn, New York. I started fifth grade and discovered I was going to be a big sister in the fall of 2014. Soon after that exciting news, I began to experience consistent pain in my thigh. My parents decided it was time I see the doctor. We set up an appointment and were told that it was only fluid around my knee.
Then on February 12, 2015, my life changed. I was running to the bus stop to meet friends when suddenly my leg snapped. I fell to the ground screaming in excruciating pain and an ambulance was called. The doctors ran numerous tests and discovered I had cancer. At first I didn't care. All I could focus on was the pain. After a few days, I was transferred to another hospital with an oncology unit. There they determined I had stage IV osteosarcoma. I was put in a hip to foot cast and started chemotherapy almost immediately.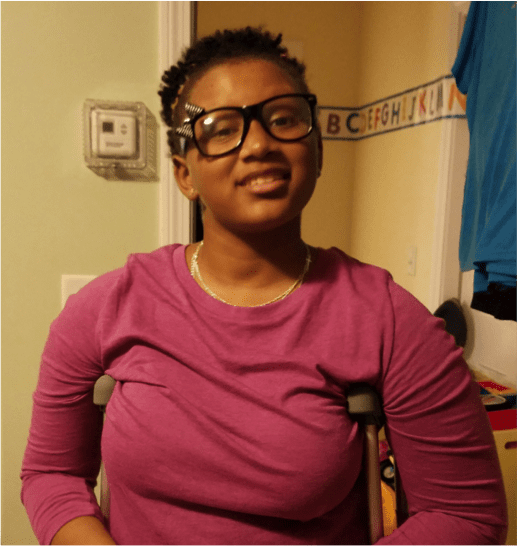 At the end of February, my baby brother, Prince, was born a few weeks early due to my mother's heavy stress. I was on one floor of the hospital getting chemo, my brother was in the NICU and my mother was on another floor recovering from her C-section. This was all especially scary.
A difficult journey
My parents arranged to have my care transferred to Massachusetts for a better fit. At the time, they were extremely worried about our healthcare and had many problems acquiring insurance. My mother was working, but my diagnosis, plus a new member of the family, made it difficult to make ends meet. We decided it was time to move in with relatives. I immediately had surgery and started chemotherapy treatments. To add to our financial difficulties, we had no way of getting to the hospital for all of my appointments. The cost of cab rides accumulated quickly.
The doctors determined they needed to amputate my leg because my cancer was so aggressive. I celebrated my 11th birthday in rehab and started chemo again. I thought I would be in remission by fall, but a week after finishing my treatment new scans revealed the cancer had spread to my lungs. Chemotherapy started again and I needed another surgery. I had operations on both lungs and continued treatment in the months to follow. All of the surgeries, treatments, transportation costs and everyday expenses added up and severely impacted my family's finances.
New beginnings
The support we received from friends, relatives and Family Reach meant so much to us and has helped my family pull through.
"Thanks to the wonderful Family Reach network, we were able to focus on Kya instead of our finances. My kids and I are truly grateful," said my mom.
I will continue to receive chemotherapy every day for the foreseeable future and still travel to the hospital for monthly appointments. Luckily, I have been feeling pretty good overall and I just finished seventh grade!
Sign up for Email Updates