It takes a community of engaged advocates, partners and supporters to reach all of the cancer-fighting families that need our help. That's why we're excited to introduce Resilience Gives, a sock-based fundraising platform, to the Family Reach network.
How it works
Partnering with the talented team at Resilience Gives, a patient designs a pair of custom that are then placed up for sale on the Resilience Gives website. Families can use their sock earnings to:
Raise money for their own healthcare associated expenses

Pay it forward to other families in need

Fund a medical research organization of their choice
Family Reach is here to ensure the funds raised for financial assistance are distributed efficiently and effectively, so that families fighting cancer can keep a roof over their heads, put food on the table and maintain access to treatment.
Finding empowerment in unexpected ways
Amy is a cancer survivor, mother of two young children and beloved member of our community. We were able to assist Amy with money for rent, groceries and hospital travel while she was undergoing treatment. She was then connected to our partners at Resilience Gives and got to work on creating her own sock fundraiser.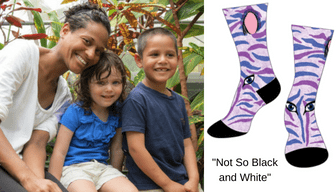 "I was honestly intimidated to design my own socks at first, but I finally signed up!" says Amy. "I started designing a few nights later and sharing my ideas with Mike from Resilience Gives. He was so helpful and encouraging! The designers were amazing as well, they made my vision a reality."
Amy named her sock design Not So Black and White to represent the fact that cancer affects everyone. Cancer does not discriminate.
"This fundraising platform is powerful beyond measure. I have not felt this empowered since slipping my pointed shoes on to dance in the Nutcracker," continues Amy. "I felt comfort in sharing my story, without divulging too much, all while giving my voice a chance to be heard!"
Making a difference, one sock at a time
It was 2016 when Jake Teitelbaum, Resilience Gives creator, found himself crumpled on the bathroom floor during treatment. He was feeling sad, angry and hopeless, when he peered down at his feet. The sight of his favorite pair of socks forced a smile across his face. An idea was born.
"Throughout my personal journey with cancer, I was continuously taken aback by the number of patients I met who were experiencing financial distress related to their diagnosis," says Jake. "When you're sick, you need to focus on healing, but these patients were thinking about finances and paying bills – it just didn't seem right."
Jake founded Resilience Gives to make a direct, tangible difference in the lives of the families he found himself surrounded by.
"Although we initially launched Resilience Gives to help patients better afford costs associated with their diagnosis, we've since had multiple patients design socks and donate proceeds to help other patients," says Jake. "Seeing how this idea of paying it forward has changed the lives of patients in treatment and galvanized communities of support is incredible."
We are proud to partner with Resilience Gives and provide our families with an additional way to combat the cost of cancer.
"We will combine our strength as a fundraising platform with Family Reach's expertise in providing financial assistance to patients," says Jake. "The product of this partnership is a holistic approach to raising funds and effectively getting them in the hands of patients who need them most."
Browse sock designs here! They make for wonderful gifts, for yourself or a loved one.
Start a fundraiser today and join the community using socks to fundraise for change.
Sign up for Email Updates