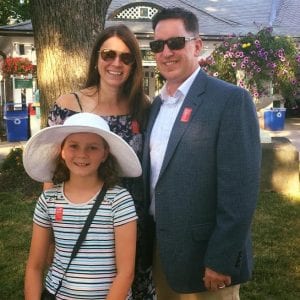 A New Yorker, crafter, athlete, gardner, mom and wife, Becky has a full schedule. But when Amanda Bruneau, her close friend and Community Engagement Manager at Family Reach, told her about our Napa Valley half marathon, she knew it was an opportunity she couldn't pass up.
"Amanda called and asked me to run with her," says Becky. "I'm a firm believer that, when you get all these people donating money on your behalf, it helps you meet your half marathon race-day goal.  It would be easy to quit the training otherwise."
Recalling her own cancer journey
Charity and fundraising have been a huge passion of Becky's ever since her own battle with cancer. Becky was diagnosed with cancer of the left parotid gland at 28 years old, followed by a re-occurrence at age 30. She endured multiple surgeries and radiation therapy. The rigorous treatment resulted in significant nerve damage to her face.
Becky's cancer journey inspired her to live life to the fullest. She started her own company and makes time to travel around the world. Becky has now been cancer-free for almost 15 years!
"I was a single twenty-something when I was diagnosed. I can't imagine having to juggle a regular job and take care of a child with cancer, or taking care of a family while having cancer myself," says Becky. "Fighting cancer is exhausting, stressful and debilitating. It means the world to me to help people who don't have the same flexibility and ability to maintain a job as I did."
Making a direct impact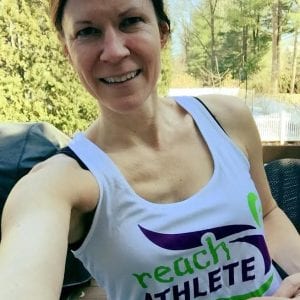 Although Becky doesn't consider herself a great runner, she loves setting goals and fundraising for charities she believes in. Her cancer history has helped her raise over $20,000 while running seven half marathons for Dana Farber, where she received care.
"I'm excited about the bigger impact that my fundraising will make on an organization like Family Reach," says Becky. "These dollars will have a direct impact on people's lives. I'm also excited to meet all the amazing people on the team Amanda keeps telling me about. I'm certain I will be inspired and touched by their stories."
We are proud to have such a courageous and determined woman on our team. Cheers to Becky as she  continues to train for this incredible destination race! Help Becky reach her fundraising goal and directly support families fighting cancer here.
Do you want to join our fearless Napa team? Email [email protected]
Sign up for Email Updates