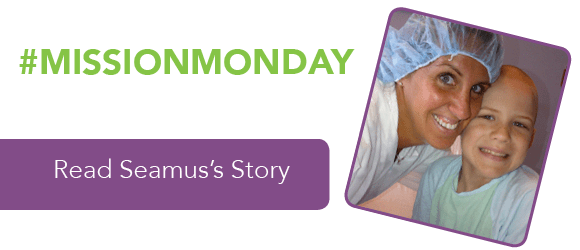 Seamus is a smart and outgoing 9 year old boy who was diagnosed with Leukemia (ALL) in the spring of 2012. At the time of diagnosis, Seamus was living with his mother and father, Dan and Eugenia and his younger brother, Danny, in New Jersey. Diagnosed with Autism Spectrum Disorder as a toddler, Seamus faced a challenging and exhausting three years of treatment, marked by numerous complications, unplanned hospitalizations and treatment setbacks. Throughout it all, he and his family have remained positive and hopeful, facing each day with a smile.
Shortly after diagnosis, Dan and Eugenia were concerned to learn that Seamus was not responding as expected to the standard treatment protocol for ALL. This has remained true throughout nearly every part of his treatment. Seamus' life saving cancer treatment has been physically, financially and emotionally exhausting for the entire family.
Immediately following diagnosis, Dan and Eugenia's combined income was reduced by more than 50%, as one of them would have to miss work to take Seamus to treatment or to stay by his side when he was sick. The out of pocket treatment related expenses were significant as well. Insurance deductibles, high co-payments, childcare costs, gas and parking fees drained the families savings and made it impossible for them to cover their household expenses. Then, a year and a half into treatment, both Dan and Eugenia unexpectedly lost their jobs within a few months of each other, further devastating this family's ability to maintain current on their monthly expenses. The family neared their financial breaking point following Eugenia's loss of employment when they incurred increased costs associated with COBRA insurance in order to ensure Seamus maintained uninterrupted access to cancer treatment.
Seamus's social worker at Robert Wood Johnson Medical Center contacted Family Reach in 2013 for help to pay the family's mortgage. Because of generous funding from the Insurance Industry Charitable Foundation (IICF), Family Reach was able to pay three month's of mortgage payments in 2013 and 2014. In addition, Seamus was featured on the Family Reach Give App and, thanks to many generous supporters, Dan and Eugenia received significant help with several months of their car payments, phone and internet costs and many of Seamus' medical expenses not covered by insurance. This critical financial help allowed Dan and Eugenia to focus on what was most important, providing Seamus the best possible chance at beating his cancer and getting healthy again.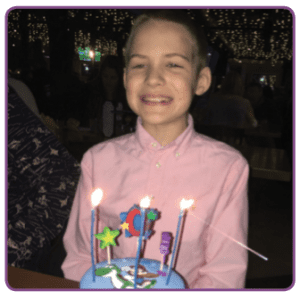 Seamus recently celebrated his last day of chemo with his family and friends. Although he continues to be monitored by his treatment team, everyone is thrilled that Seamus has made it to the other side of treatment and cherishes every big smile that he flashes their way!
Here is a picture a picture of Seamus celebrating "No Mo Chemo"!
Sign up for Email Updates