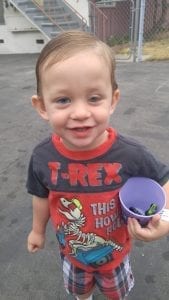 For many, the holiday season is a much-anticipated time of joy during the cold winter months. But for families fighting cancer, this time of year brings with it a new layer of worry. Through our Hope for the Holidays campaign, we're helping families like the Montijos have the bright holiday season all families deserve.
A dynamic two-year-old boy, Raylan Montijo has been a true fighter since he was diagnosed with bilateral retinoblastoma, an aggressive form of eye cancer, at just 10 months old. He has endured a strenuous and intensive treatment plan, including the removal of his left eye, traditional chemotherapy and laser treatments on both eyes. Despite permanent vision and hearing loss, he continues to maintain a bright attitude and serve as an inspiration to all who cross his path.
Currently receiving treatment at Children's Hospital Los Angeles, Raylan and his parents, Elizabeth and Doug, must travel back and forth from their home in Cabazon, CA multiple times a week, adding significant financial and emotional strain.
Due to the unpredictability of Raylan's rigorous treatment plan, Elizabeth and Doug have both quit their jobs so that they can fully support their children through this difficult time. Elizabeth travels with Raylan while Doug cares for Raylan's four siblings at home.
Every day brings its own set of challenges for the Montijo's. After a stressful insurance battle, Raylan is now receiving occupational therapy three times a week in Los Angeles. This necessary treatment has added 648 miles per week to the family's travel. The added mileage has taken its toll on the family's only vehicle, requiring extensive maintenance and becoming a huge monetary strain.
Last year during the holiday season, Family Reach was able to deliver significant support to Raylan's family through our Hope for the Holiday's program. We provided funding for two months of rent and a $1,000 gift card for clothing, food and presents for the entire family. This helped alleviate some of the financial burden and allowed Elizabeth and Doug to repair their vehicle and create a memorable Christmas for their family.
This year, we will continue to support the Montijo family to ensure they are able to have a safe, relaxing and stress-free Christmas without fearing the financial burden of the holiday season.
Interested in providing Hope for the Holidays to families like the Montijo's? Visit https://familyreach.org/holidays/
Sign up for Email Updates