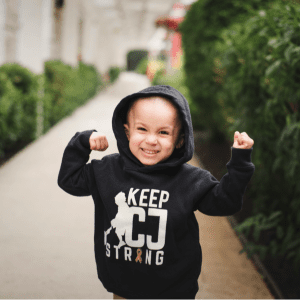 CJ is a very active 3-year-old boy who loves soccer and running around in his Super Mario Brothers' costumes! His energetic demeanor and ever-present smile have been especially helpful during the past year. CJ was diagnosed with acute megakaryoblastic leukemia in October 2016. He has been receiving treatment since then at St. Jude Children's Research Hospital, requiring his family to move hours away from their home state.
Tough times
With CJ's diagnosis came many difficult decisions. Both of CJ's parents had full-time jobs. They also owned a home. CJ's mother and father decided that their son's wellbeing was their top priority and chose to stay by his side throughout his entire journey. This required them to leave their careers and give up their home so they could always be with CJ at the hospital.
The family found a great sense of normalcy in their togetherness, but they quickly found themselves stressed by financial troubles and how to afford life after cancer. Their savings were running out. One major barrier was their lack of safe and reliable transportation to and from daily treatment sessions. Without a car, the family relied on a shuttle bus shared by all patients and caregivers at the hospital.
"We would bring disinfectant wipes and hand sanitizer every time we got on the bus to try and eliminate the risk of germs spreading to CJ," says his mom. "Every time someone on the bus would cough, our hearts would drop in fear that our son was going to get sick."
Good news
Family Reach was able to work with the Anthony Rizzo Family Foundation to keep CJ safe and infection-free by providing a grant that allowed the family to purchase a car.
"The Anthony Rizzo Family Foundation and Family Reach have given us a safe space that we feel comfortable bringing our son into," says CJ's mom. "It has given us safe, happy experiences with our son, like driving around to look at Christmas lights, that wouldn't have otherwise been possible."
A powerful partnership
Our partnership with the Rizzo Foundation allowed us to help 156 families like CJ's in 2017 at 56 different hospitals and cancer centers across 26 states. Of the families helped, 25 percent were single parent households and 61 percent reported that they've lost at least 50 percent of their household income since the beginning of treatment. For 68 percent of these families, the assistance from Rizzo allowed them to stay on top of their rent and mortgage payments. This means they were able to keep a roof over their heads and remain in their home during a very critical time in their lives.
By providing families fighting cancer with the resources they need to ensure a stable environment during treatment, Anthony Rizzo and his family are giving patients their best shot at overcoming their diagnosis and offering a sense of hope.
CJ's latest results show that he is cancer-free! We keep this family in our thoughts as CJ continues to recover.
Sign up for Email Updates