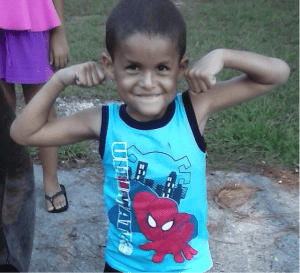 Here at Family Reach, we're not simply Cubs fans. We're die-hard supporters, and we're proud of that – for many reasons. After Anthony Rizzo's own battle with cancer, he established the Anthony Rizzo Family Foundation. For years, the foundation has worked tirelessly to raise money for cancer research and support children and their families battling the disease.
Through the generosity of the Anthony Rizzo Family Foundation, we're able to extend our reach and help ease the financial burden weighing on families. Tomorrow night, as we watch in anticipation as the Cubs take on the Indians for a World Series win – their first since 1908 – five-year-old Christian Rogers, part of our family network, is doing just the same.
When Christian was four years old, he was diagnosed with acute lymphoblastic leukemia (ALL). A single mother, Sabrina quickly took action and created a plan to get her son well. Without hesitating, she left her career of eight years, packed her life into storage and moved her and Christian into the Ronald McDonald House in Gainesville, Florida, so that they could have access to care at Shands Children's Hospital.
At the start of treatment, Christian's older sister, Bri'ana, joined her mom and brother in Gainesville. While Sabrina longed to keep the family together, the lengthy hospital visits and extensive chemotherapy treatments made it difficult. Sabrina made the tough decision to have Bri'ana move in with her grandmother in South Carolina, hoping to provide Bri'ana with a "normal" home environment while she remained at Christina's bedside.
After eight long months of lifesaving treatment, Christian and his mother were finally able to reunite with Bri'ana back home. Unfortunately, Christian still required outpatient visits two hours away from their home. As Sabrina poured additional dollars into vehicle maintenance, household expenses began to pile up.
With the help of the Anthony Rizzo Family Foundation, Family Reach stepped in and provided the Rogers with a grant to cover two months of rent, saving them from a downward financial spiral. Sabrina beautifully writes how the grant has positively affected her family:
"By far this was the toughest challenge I had ever faced, but because of wonderful people that have dedicated their lives to helping others in a crisis like ours, I was able to provide the necessities for my children. It brought so much comfort, strength and encouragement knowing that there are wonderful people in the world like all of you who reach out and help families in need. After eight months of aggressive chemo, my son is now in school and is on a three-year treatment plan. We are starting life over again and face many challenges, but with people like you in the world it gives all of us hope and encouragement. May God bless all of you more and more."
So tomorrow, you can bet we will all be rooting for Anthony Rizzo – our rock star on and off the field – and for the Cubs to bring home the win.
Sign up for Email Updates