Guest Blogger, Ida, shares her family's experience during her son Michael's battle with pediatric brain cancer.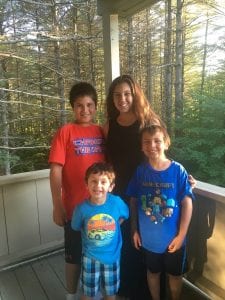 A few months before Michael's cancer diagnosis, his older brother, Stevie, began asking what it would take for him to become a scientist. After explaining all of the hard work required, I questioned him on his sudden interest in this. He replied without hesitation that he wanted to become a scientist to cure kids with cancer. I wasn't very surprised to hear this. Stevie wears his heart on his sleeve and has had nurturing tendencies since his earliest days. But I was surprised to hear the word cancer because, at this point in our lives, we were blessed to have minimal experience with the disease, especially affecting a child. I didn't think much of it at the time, but it was one of the first things that came to my mind when we were told that Michael had a brain tumor.
Keeping up with our four children, our lives were very busy at the time Michael was diagnosed. Kylie, our oldest daughter, danced three nights a week and performed on a dance competition team. Our youngest, Jacob, was one and a half and full of energy and mischief.  Meanwhile, the older boys, Stevie, eight, and Michael, six, had just finished a successful flag football season together and were in the midst of little league. Only 18 months apart, the two are quite inseparable when it comes to playing sports, sharing friends and engaging in various hobbies. When they were younger, I often found them nestled together at night sharing the bottom of their bunk beds instead of sleeping separately. Life was hectic, but happy, and offered no clues about what would soon derail us.
A new chapter
When we had to tell our children that Michael had medulloblastoma, a pediatric brain cancer, it was as if the news stole all the innocence and carefree bliss that childhood offers. I will never forget the look of disbelief on Kylie and Stevie's faces when I confirmed that their younger brother (who had just hit a double and caught a bullet line drive at last week's little league game) had a disease they mostly associated with the old and often dying. Life as we knew it would never feel the same.
There was nothing as parents we could do to fully prepare them for the drastic change their happy, smart, athletic and fun loving brother was going to encounter. They had to watch in disbelief as cancer took Michael's beautiful hair, trademark eyelashes, effortless coordination and strength and transformed him into a completely foreign version of himself. Each of our children experienced mixed emotions of shock, sadness, anxiety and fear. But being so young, they couldn't always express or even fully understand these emotions.
They also had to adjust to the separation from both my husband and me as we stayed with Michael in the hospital for surgeries, radiation, chemo cycles and unplanned overnights due to side effects from treatment. All of our kids learned to fear a fever, as it meant an automatic trip to the ER and possibly more hospital time. Nothing could be planned – it was always contingent to Michael's counts or current status. Even holidays, birthdays and school events couldn't escape cancer's influence. This took a heavy toll on each child but it was especially devastating for Stevie. He heavily felt the loss of his other half. Rough and tumble playtimes had to be replaced with quiet and often low-energy activities.
A family united

Despite the difficult circumstances, it was amazing to see how our kids, even little Jacob, adjusted their activities so that they could include Michael. Each child played a critical role in helping Michael heal, offering fun distractions or anticipating his needs at a moment's notice. I also think having three siblings kept Michael from focusing solely on himself and motivated him to fight through even his sickest days. He simply wanted to keep up with them and not miss out on the fun.
We will always be thankful to Family Reach for their recognition of the crisis cancer brings to the whole family. The financial support allowed me to be at home with our kids and focused on helping Michael through the harsh treatment process. Family Reach has also provided our family with meaningful and uplifting experiences. Both Stevie and Michael will always cherish the night at Fenway as they cheered on the Red Sox and Michael threw out the first pitch. As a parent going through cancer, this memorable time spent as a family is priceless, and we are truly grateful.
Michael is currently doing very well with no evidence of disease. Hear more about his amazing journey in next week's Mission Monday.
Sign up for Email Updates