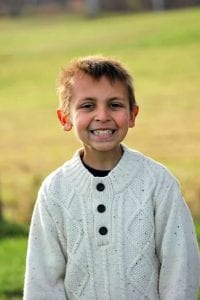 Guest blogger, Ida, shares her son Michael's battle with pediatric brain cancer in part two of this mini series. For part one, click here.
Before his diagnosis, Michael was a very energetic, funny and athletic boy that could almost always be found shooting or throwing any type of ball he could get his little hands on. He was a child that hit every milestone early and with ease – he took his first steps when he was just shy of nine months old. His personality matched his relentless energy and he was always one step ahead of us with a witty remark or joke.
An unexpected turn
After experiencing an extended period of vomiting and headaches, we took Michael to the doctor. There, at just six years old, he was diagnosed with medulloblastoma, a malignant pediatric brain tumor in the cerebellum. We were told that his tumor had spread to other areas in his brain – "sugar coating," they called it. Instead of our beautiful boy finishing kindergarten, he was going to enter a fight for his life. The fight isn't fair, nor is it child-friendly. The treatment he endured was nearly identical to treatment tailored for an adult and left him with severe side effects and a long-term neurocognitive deficit. Our son's entire life was pulled out from underneath him. As parents, we felt extremely helpless and were forced to make critical decisions in extremely short periods of time.
Over the next few months, Michael underwent an unsuccessful surgical resection, followed by six weeks and 31 rounds of cranio-spinal radiation and finally six monthly cycles of high-dose chemotherapy. The process weakened him to a former shadow of his spunky self.
Michael finished his frontline treatment in February 2015, weak and exhausted. He was fed through a G-tube and faced frequent hospitalizations due to infection or the need for blood products and hydration. Unfortunately, his end-of-treatment MRI wasn't the news we had hoped – there were still areas of concern remaining in his brain. We were told we could 'watch and wait' or enter a new clinical trial for pediatric brain tumors that held no guarantee of clearing up this refractory disease.
Hope ahead

After consulting other hospitals for second and even third opinions, we decided to enter the clinical trial at Dana-Farber Cancer Institute. It was a trial without much history or a large cohort of other children, but our options were limited. A metronomic and anti-aniogenesis therapy, it was designed to target the proliferating tumor cells and hopefully minimize toxicity. The requirements were extensive – another surgery to place a reservoir in Michael's brain that directly delivered chemo, five drugs to be taken daily at home and biweekly intravenous Avastin, along with intrathecal chemo. For the first couple of months, Michael tolerated it well, but a neurological reaction that caused him to have stroke-like symptoms forced us to change the game plan. We discussed with his team and decided to move forward with a modified version of the trial. This is where we stand today.
Michael is currently in his 84th week of therapy and his last MRI revealed no evidence of disease. This is the best news we could have hoped for and he is in the final phases of this treatment. The trial wasn't without additional side effects, but it has allowed him to maintain a good quality of life and return to being a kid again. Although the chances of a reoccurrence still exist, we take comfort in knowing his cancer responded to treatment. With all he has overcome and his ability to remain positive, Michael continues to amaze us everyday. We couldn't be more proud of him and his unyielding strength and courage.
Cancer has no predictable timeline, nor does it follow a specific course. There are twists and turns throughout the journey that most are unable to prepare for. The financial burden of the disease paired with the time missed from work was one of many challenges we faced. We will always be grateful for the critical support Family Reach has provided throughout Michael's treatment, allowing us to keep up with our mortgage and priority expenses. Our focus needed to be on getting Michael through treatment, and Family Reach recognized the importance of this. They stood by us not only as supporters, but as friends, offering the tools we needed to overcome some of our hurdles. Once Michael's treatment is over, we hope to give back to Family Reach and help others dealing with these difficult situations.
Sign up for Email Updates