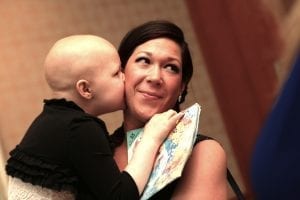 For eight-year-old Madison, it's the outpouring of love and support she receives that keep her strong. When Madison was 18 months old, her mother, Shauna, noticed that her daughter's stomach was swollen. Shauna took Madison to the doctor, where she discovered that the inflammation was a result of acute lymphoblastic leukemia (ALL), a blood cancer that causes the liver and spleen to swell.
Immediately after Madison's diagnosis, Shauna saw how determined her daughter was, regardless of the turmoil that surrounded her. After being put on life support during a bone marrow aspiration, Madison began two years of chemotherapy. She has endured countless hospitalizations along with a severe lung infection that resulted in another round of life support. "But she's always pulled through," said Shauna, who remains by her side providing endless support and comfort.
Before Madison's diagnosis, Shauna was a nursing student and a state certified dialysis technician, but she put her career on hold to care for Madison and keep up with the rigorous treatment plan. To make ends meet and cover parking fees, uncovered medical expenses and the rising cost of gas due to frequent hospital visits, Shauna picked up odd jobs like shoveling snow from neighboring roofs.
This fall, Madison started second grade, on the same day Shauna gave birth to her son, Liam. Six days later, Madison relapsed with ALL for the third time and has been inpatient at Boston Children's Hospital ever since, dependent on pain medication and a wheelchair. Shauna now faces a new obstacle: juggling being at the hospital with Madison while caring for a newborn. She handles this with the same grace and strength she has demonstrated since Madison's initial diagnosis. In December, Madison and Shauna will travel to Philadelphia to participate in a six-week clinical trial.
Since 2012, Family Reach has provided financial and emotional support to Shauna as she pours her energy into providing a stable, healthy environment for Madison during her ongoing treatment and several relapses. In between appointments, Shauna has generously donated her time to Family Reach. She's an integral member of our Family Council, sharing our message and providing support to families going through similar situations. For her daughter and countless others, Shauna is a beacon of light and carries our mission with her each and every day.
Sign up for Email Updates