#MissionMonday: Felecia's Story
When Felecia Cook was diagnosed with stage III breast cancer in May of 2015, her family was hit hard by the overwhelming financial and emotional side effects of the disease. She and her loving husband had become the primary caretakers to their six grandchildren two years earlier, following the incarceration of two of their children. The couple took on this responsibility while working full time, Felecia as a caseworker for homeless individuals transitioning to housing, and her husband as a long-distance truck driver. The toll that Felecia's cancer diagnosis took on this fragile family unit was fast and overwhelming.
Diagnostic testing showed that Felecia's cancer was located in her left breast and had spread to several lymph nodes. Her first year of treatment included a mastectomy, chemotherapy and radiation. Felecia felt enormous financial pressure to continue working, but her aggressive treatment protocol made that impossible and she was forced to take an unpaid leave of absence from her job. During the more difficult times of her treatment, Felecia was unable to care for her grandchildren, requiring her husband stay home to perform all of the childcare. This forced a dramatic decrease in his working hours and income. Within the first three months of treatment, the family's household income was reduced by 75% and all of their savings were exhausted.
Overwhelmed, Felecia reports that she "tried not to think" about her financial situation. "At the time of my diagnosis, I never imagined that breast cancer would impact every area of my life." After paying for the cost of her treatment, food for the children and the utilities for her home, there was no money left to pay for her mortgage and the family's home was in jeopardy.
Felecia spoke with her social worker at Mary Washington Hospital in Virginia about the delinquency of her mortgage and her fear of losing her home. The social worker contacted Family Reach, who worked with Felecia on a plan to save the family's home by providing funding for three months of the mortgage payments, immediately ceasing all legal proceedings and bringing the account current.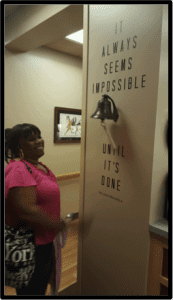 Felecia wrote to Family Reach six months later, "Family Reach and their staff really impacted my family's life…They not only assisted us financially, but they really cared about our situation. If it were not for Family Reach, my family and I would have lost our home. We are so thankful to them."
We are happy to share that Felecia recently rang the bell following the completion of her last chemotherapy treatment and testing shows no evidence of disease as she enters the maintenance phase of treatment. Congratulations, Felecia!