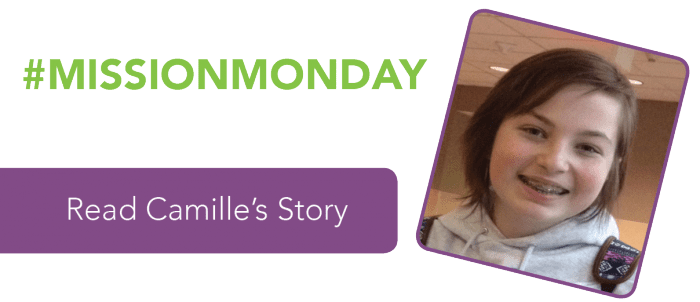 In 2013, 11 year-old Camille was diagnosed with an extremely rare type of bone cancer called Osteosarcoma in her right tibia. Now Camille, a competitive Irish dancer, faced a new challenge: fighting her cancer. Her diagnosis forced her to stop dancing to focus on her aggressive treatment. Camille's battle with cancer had many complications, but she remained a courageous fighter in the face of these setbacks. As her mother Colleen stayed by Camille's side, they both resolved to remain strong and fight against this devastating illness.
Colleen and Camille discovered that this journey would not be without its obstacles. Camille had to undergo limb salvage surgery where the majority of her right tibia was removed and replaced with a donor bone allograft.  She spent many months in a wheelchair and a full leg cast, and she braved numerous lengthy hospitalizations. After tumors were found in her lungs, Camille endured two lung surgeries. Despite the difficulties that came with these unanticipated procedures, Camille and Colleen didn't give up. Camille was determined to get her life back.
Colleen, a newly divorced mother of three daughters, found herself facing financial concerns after Camille's diagnosis. Since Camille was diagnosed, Family Reach has been able to help Colleen cover her car payments, utilities, and mortgage payments, giving her some solace during these difficult times.
See Camille's inspirational story here.
Sign up for Email Updates