MissionMonday: Anya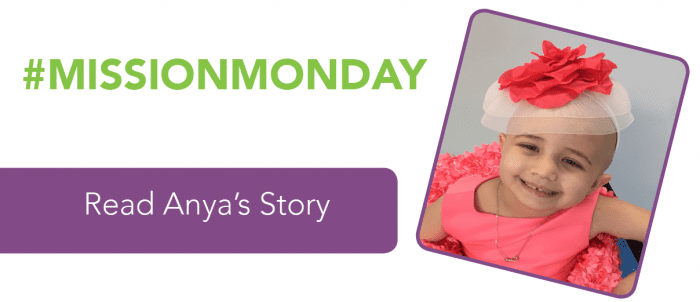 Anya is a bright, sweet five-year-old girl who lives in Florida with her mom Heather, her teenage brother, and her seven-year-old sister. In November 2014, Anya was diagnosed with Leukemia (ALL).
When Anya was diagnosed, Heather made the hard decision to leave her job as a schoolteacher to be by her daughter's side during an aggressive treatment regimen. This loss of income had an immediate impact on the family, while Heather spent most of her time in the hospital and medical bills began piling up.
A few months later, the family's financial situation was impacted further by the separation of Anya's parents. Heather was left as sole caretaker and provider for her three children. Without a legal separation, Heather and her children did not qualify for supplemental government assistance. It became near impossible for Heather to stay on top of her monthly bills. Her social worker reached out to Family Reach for help.
Despite the challenges that she has faced, Heather maintains an extraordinarily positive outlook. When Heather received the news that a Family Reach grant would be provided to cover two months of rent, she was choked up with tears of happiness. We were so grateful to receive the following thank you note a few weeks later:
"The words thank you do not seem like enough to express how appreciative we are for your generosity. You called me when we were getting ready for the prom, and the smile on my face is radiating from the ability to let myself be completely in the moment with my kids instead of worrying about finances."
Here's a picture of Anya and Heather at prom. Anya is still fighting with a smile on her face and Family Reach continues to stand beside her!