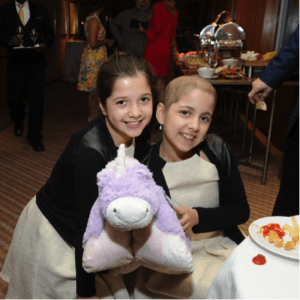 During Childhood Cancer Awareness Month, we're honoring Olivia, whose bright, bubbly personality touched so many.
Olivia was 11 years old when she was diagnosed with a rare form of acute myeloid leukemia in February 2016. Her devoted family stood by her side as she underwent chemotherapy to treat this aggressive disease. Olivia's twin sister, Sabrina, was even the donor for her bone marrow transplant. The transplant went well, but it was not enough – her cancer came back that October.
Amidst this heartache, Olivia's family struggled financially. Her mother stopped working to care for her, leaving Olivia's father as the family's sole provider. This loss of income paired with extensive travel to access a clinical trial across the country drained their funds.
The Family Reach community rallied around the hardworking, deserving family to ensure they had the means to keep their household running while focusing on Olivia's wellbeing.
Honoring Olivia
Olivia passed away on April 16, 2017 at the age of 12. It is with heavy hearts that we remember this remarkable young girl. She had a love for cooking, especially cupcakes, and even asked for a standing mixer for her eleventh birthday. She brought this passion to our Cooking Live! event and brought a smile to all of our attendees' faces. Olivia continues to light and inspire our work each day.
Honor and support families like Olivia's during Childhood Cancer Awareness Month. Donate today.
Sign up for Email Updates