Our Reach Athletes train and compete in various athletic and endurance events to generate support for Family Reach. They seek to challenge their own stamina and determination in order to support families as they struggle to overcome the obstacles they face each and every day as they battle cancer.
Whether it is a death race, 3-hour spinning challenge, running the length of Indiana, or an attempt to break the Guinness World Record for completed burpees in 24-hours, there is nothing that this group would not do to support the children and families Family Reach serves.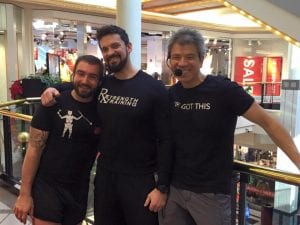 Kenji Freedman, Reach Athlete and Founder, has guided these incredible athletes to thrive and push themselves throughout 2015. One of the most memorable Reach Athletes events this year involved Alexander Ouellet, a 22-year-old engineer at PTC. Coached by Jeff Butterworth, owner of RX Strength Training in Somerville, Alex was striving to break the 24-hour burpee record for over 10,1100 burpees. The event, hosted at the CambridgeSide Galleria Mall, was also covered by The Boston Globe.
Kenji provided a glimpse of what inspires him and drives these athletes to push themselves to the extreme:
"It's 3:20 a.m. I'm locked inside the CambridgeSide Galleria with a bunch of awesome Reach Athletes. We relied on Alex's amazing resiliency and fitness level to strive to break the world record for the largest number of burpees completed within 24 hours.
I asked myself why did we come here in the first place? Was it to break or set a record? Sure, that was part of it. But, why did this all really get started?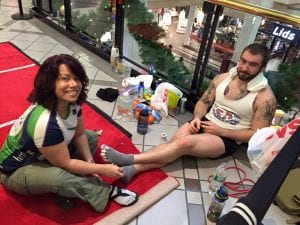 When I started Reach Athletes 6 years ago, the point was to use fitness to join our collective conscience with families dealing with the overwhelming financial crisis that often comes with a cancer diagnosis. The goal was to push your body to the limit and suffer in solidarity with the kids who are bravely fighting the effects of cancer everyday. We endured, so they don't have to. If possible, we would push our bodies to the limit and really get a sense of what it feels like to suffer in honor of those brave kids.
When you meet a guy like Alex, who's willing to put his body on the line to bring awareness to the mission of Family Reach, you can't help but be inspired to push it all the way to the edge because he cares that much. He cares so much for these families whom he's never met, but nonetheless cares for in a very deep profound way. How many people do you know that would do that? 
It's efforts like his that brings hope to these children and families. It brings hope to all of us. Family Reach is not about charity. It's about humanity. This level of selfless sacrifice and dedication to the families Family Reach serves is what humanity is about. "
Thank you to our Reach Athletes for all they've done and continue to do for our families battling cancer. We are truly inspired by everything you do and cannot wait to hear what's up next in 2016.