During Childhood Cancer Awareness Month, we are sharing stories from the many families we've served over the past twenty years. Childhood cancer leaves a lasting impact on every family touched by the disease. This month we honor their many unique journeys through childhood cancer and ask you to stand with us by joining our monthly giving program. 
In December 2012, Giza was diagnosed with retinoblastoma – cancer of the eye – at just 17 months old. Giza is the only child of Rebecca and her husband, however Rebecca has two children from a previous marriage, as does her husband. The family of six lives in New Jersey.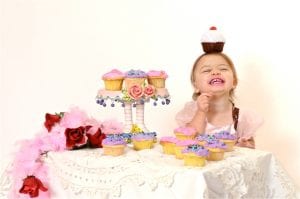 Giza's father worked full time in Buffalo, New York, commuting home for the weekends. After Giza's diagnosis, he requested a relocation to New Jersey so that he had time to help take care of Giza and her four older siblings. The relocation came with a loss of income. During the course of her treatment, Giza went to Memorial Sloan Kettering Cancer Center for both laser treatment and chemotherapy. Costs related to this treatment coupled with the loss of income left the family struggling to make ends meet. Rent became a severe burden and the family feared losing their home during their most difficult days. Thanks to the support of our donors, Family Reach was able to step in and cover the family's rent so they could focus on Giza's health.
Today, Giza is cancer free and getting ready to start preschool this month! Giza's mom Rebecca shared her thanks for the impact that Family Reach had.
"We are so blessed to have crossed paths with Family Reach. Thank you for being there for us when we were drowning. When my business takes off and I'm able, I will be making a donation to Family Reach as a thank you for caring enough to hold our hands when we didn't know my daughter's fate. Giza brings such joy and happiness to our lives. I pray everyday the Lord let me keep her for a very, very long time!" – Rebecca
We are proud to have stood by Giza when her family needed us most. Become a Key Holder today and double your impact with a matching gift from The Castle Group. With the help of our Key Holders, we can be there for the thousands of families who will hear the words "your child has cancer" this month.
Sign up for Email Updates