Cancer Surgery Alters Life & Finances for Mom & Son
Our community has inspired us countless times. Their willingness to share stories about their cancer journeys and in turn, give hope to others facing similar challenges is remarkable. Isaiah, a one-year-old who was diagnosed with hepatoblastoma in March 2018, and his mother, Tish, are two of these true heroes.
A Life-Altering Treatment
Isaiah was enjoying his young life – playing with Mickey Mouse, eating pancakes, and dancing up a storm – and hitting all the developmental milestones for his age, until he underwent a life-altering surgery on July 24, 2018.
During a routine procedure to have his tumor removed, Isaiah suffered cardiac arrest and his brain was deprived of oxygen, resulting in an anoxic brain injury. Isaiah went blind in both eyes and will likely never be able to speak again.
"He can hear but we are unsure if he understands. He can't talk or interact yet. Right now, it's hard to say what's going to happen to my boy," says Tish.
Financial & Mental Hardships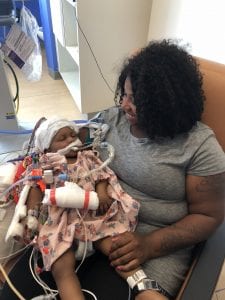 Not only has cancer completely change the course of Isaiah's life, but it has taken a drastic toll on this family's financial stability and mental health. Tish is no longer able to work full-time due to Isaiah's needs and treatment plan. Her income has been cut by more than 50%.
"Mentally, it's hard to accept Isaiah's brain injury. All my time is spent at the hospital by his side. I want to buy toys that will help him, but parking expenses, gas prices and unpaid leave are killing my budget," says Tish.
Before Isaiah was diagnosed, Tish proudly bought a new home for her family. She took out a loan to help cover the mortgage and is now facing drastic lifestyle changes to try and make ends meet. Between mortgage payments, hospital expenses and everyday needs, Tish is struggling to keep her family afloat.
"My life is all about cancer now. It's been really hard to accept. My baby used to love to dance and now he's intubated in the PICU," says Tish. "And through it all, I've found myself forgetting about my own health. As a result, I've developed depression and anxiety."
Isaiah remains in the hospital because of his brain injury. His cancer cells are down, but because of his injury, he has to wait to undergo his final two rounds of chemotherapy to be deemed cancer-free.
"Cancer has ruined my life but it didn't take my son from me," says Tish. "He is still fighting and I am there for him every step of the way."
A small relief
A cancer diagnosis affects the entire family. Keeping a family in their home during these trying times is critical to helping them overcome cancer. Thanks to the help of our affiliate partner, JUST TRYAN IT, we were able to cover Tish and Isaiah's mortgage. This assistance allowed them to stay in their home, gaining a sense of relief and stability.
Donate here to help families like Tish and Isaiah who are facing the financial burdens of cancer.
Sign up for Email Updates