Financial Toxicity Impacts Cancer Survival Rates — So Why Are So Few Talking About It?
Financial toxicity discussions spotlight the financial burden of cancer, but many fail to illuminate the heartbreaking impact this can have on cancer outcomes.
The other morning, I turned on NPR while getting my daughters ready for the day ahead. It was a Saturday, and like many of us on a weekend morning, I was doing my best to think about anything but work. Then Scott Simon's familiar voice cited a statistic that underscored why I do what I do.
"About 1 in 4 people with cancer declare bankruptcy or lose their home to eviction or foreclosure."1
The story featured Jeni, a mother and foster parent in South Dakota, who was diagnosed with breast cancer two years ago. Following her diagnosis came the layers that we at Family Reach know all too well: insurance doesn't cover as much as you think, and debt piles up as tests, surgeries, treatments, and follow-ups require time off work and interrupt income.
Suddenly, you're making unexpected trade-offs. For Jeni, "any money spent on medical bills could mean taking a child out of violin lessons or buying cheaper, less nutritious foods for her family."
The story beautifully highlighted the financial devastation caused by a cancer diagnosis, but one key area was left unaddressed: the impact this has on a patient's chances of survival.
Financial toxicity is a life or death discussion
Science has come so far, and new cures are emerging every day. But how effective is a new treatment if a parent skips their medication to put food on the table?
Financial devastation — what researchers call "financial toxicity" — is a hallmark of the American healthcare system. According to recent studies, one in three families can't afford their basic needs during cancer treatment.2
This is more than just a sad reality of cancer — it's taking the lives of mothers and fathers, sisters, and brothers across the country. Cancer patients who file for bankruptcy have a 79% greater risk of early mortality.3
Affordability of Cancer Care: Breaking Down Cost Barriers to Treatment Through Collaboration
Yet despite harrowing statistics like this, it's currently up to individuals to borrow money, start a GoFundMe, and lean on nonprofits like Family Reach to ensure they can access treatment and keep their homes intact. That isn't a sustainable solution to a crisis that impacts up to three-quarters of cancer patients each year.4
Putting cancer patients' basic needs first
We hear leaders at the ASCO Annual Conference and White House Cancer Moonshot forums talk at length about the financial crisis of cancer, yet the narratives often position insurance policies and the high cost of treatment as the root cause of financial toxicity. By focusing the national conversation on these complex issues, we are collectively failing to address the critical non-medical side of the discussion.
People need secure housing, food, and transportation in order to adhere to treatment and improve their cancer outcomes.
Food insecurity in particular is a harrowing reality faced by people living with cancer. Even without a cancer diagnosis, food insecurity is well documented as a social determinant of health that influences poorer health outcomes. When cancer enters the picture, people with food insecurity are less likely to complete treatment.5 Nationally, 10.5% of Americans are food insecure.6 Research shows that among cancer patients, this jumps to anywhere from 39 to 61%.7
In his article, Transforming Practices Through the Oncology Care Model: Financial Toxicity and Counseling, Dan Sherman, Founder and President of The NaVectis Group, writes, "From a psychosocial standpoint, Maslow's theory of the hierarchy of needs plainly established that if a person's basic needs and his or her sense of security is threatened, the person will likely be unable to experience wellness."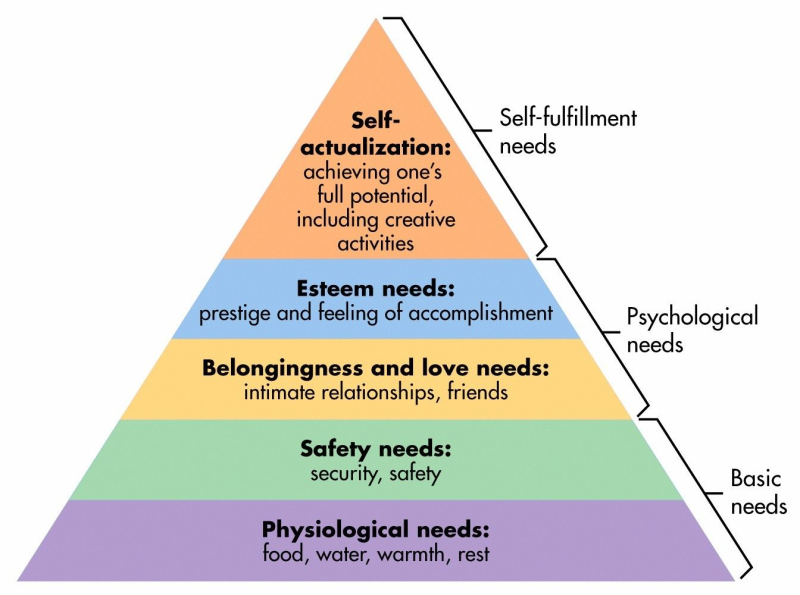 Would comprehensive insurance policies and lower drug costs help with the financial toxicity of cancer? Yes, but that alone won't solve the problem.
Approximately 64% of the families we supported in 2021 lost half or more of their income once treatment began. For them, new medical bills are just one barrier to treatment adherence — everyday bills like car payments, rent, and groceries become a trade-off. For a majority (61%) of the families we serve, transportation is their greatest area of need, followed by housing (54%) and food (54%).
We won't equitably reduce cancer deaths in the U.S. until families facing this disease are supported from all sides — medically, psychologically, and financially. More than ensuring medical costs are covered, this means creating a safe space for families to put up their hands and say, "I can't feed my children" and then helping them right away.
Prioritizing financial health in cancer care
As I reflected on Jeni's story and other patient voices that Saturday morning, I was reminded of the simple and painful truth that people with cancer are losing it all.
Jeni's story is not an anomaly. It is one of the hundreds of thousands that underscore the work we do at Family Reach. We aren't alone in this knowledge, and stakeholders across the healthcare spectrum are developing and evaluating solutions. In 2020, researchers from Levine Cancer Institute published a study proving that financial interventions increased a patient's chance of survival.8
Our research efforts going forward will focus on expanding that body of literature to demonstrate the undeniable link between financial health, basic needs, and cancer outcomes. Through our collaborations with healthcare professionals, researchers, corporate partners, and other nonprofits, we're working for a future where financial treatment is a standard of cancer care.
Together, we can improve cancer survival rates. The data proves it.
Sign up for our Imagine Newsletter to join conversations about financial health and equity in cancer care.
Resources
She was already battling cancer. Then she had to fight the bill collectors. Weekend Edition Saturday. Published online July 9, 2022. Accessed August 16, 2022. https://www.npr.org/sections/health-shots/2022/07/09/1110370391/cost-cancer-treatment-medical-debt
Bona K, London WB, Guo D, Frank DA, Wolfe J. Trajectory of Material Hardship and Income Poverty in Families of Children Undergoing Chemotherapy: A Prospective Cohort Study. Pediatr Blood Cancer. 2016;63(1):105-111. doi:10.1002/pbc.25762
2. Ramsey S, Blough D, Kirchhoff A, et al. Washington State cancer patients found to be at greater risk for bankruptcy than people without a cancer diagnosis. Health Aff (Millwood). 2013;32(6):1143-1152. doi:10.1377/hlthaff.2012.1263
"2016 CancerCare Patient Access and Engagement Report." CancerCare, 2016.
Johns Hopkins University Bloomberg School of Public Health. "Food insecurity doubled likelihood of foregoing or delaying medical care during first year of COVID-19 pandemic in U.S: Survey conducted in December 2020 also found minorities and low-income individuals were at elevated risk of food insecurity." ScienceDaily. ScienceDaily, 14 April 2022. www.sciencedaily.com/releases/2022/04/220414105749.htm.
USDA ERS – Key Statistics & Graphics. Accessed August 16, 2022. https://www.ers.usda.gov/topics/food-nutrition-assistance/food-security-in-the-u-s/key-statistics-graphics/
Weisberg TF. Improving Cancer Care by Addressing Food Insecurity. 2020;35(4):36-45. doi:10.1080/10463356.2020.1771130
Thomas G. Knight, Melissa Aguiar, Myra Robinson, Allison Martin, Tommy Chen, Rupali Bose, Jing Ai, Brittany K. Ragon, Aleksander L. Chojecki, Nilay A. Shah, Srinivasa R. Sanikommu, James Symanowski, Edward A Copelan, Michael R. Grunwald; Financial Toxicity Intervention Decreases Mortality in High Risk Hematologic Malignancy Patients. Blood 2020; 136 (Supplement 1): 14–15. doi: https://doi.org/10.1182/blood-2020-137222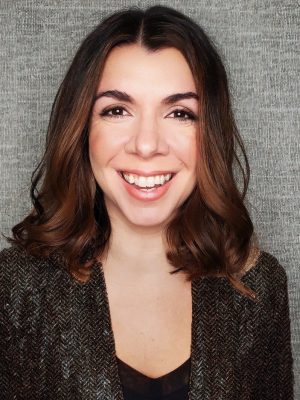 As COO at Family Reach, Rosie plays a pivotal role in the progression of the organization's services, research, and collaborations. She launched the inaugural strategic planning process in 2019 and works closely with the team to ensure that all internal and external activity is aligned to push the mission forwards.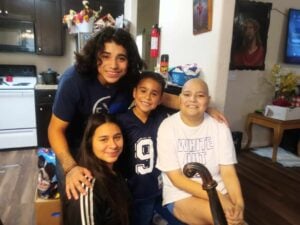 Your holiday giving provides financial relief to families like these who are facing cancer this winter.
Read More »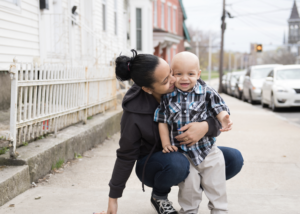 Curious what a donation to Family Reach does? Here's a breakdown of how donations to Family Reach provide financial support to families facing cancer.
Read More »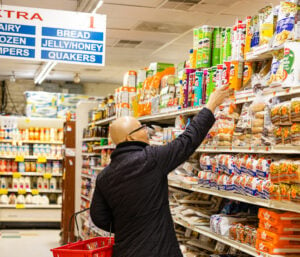 These tips will help you save money on food while you or your loved one is going through cancer treatment.
Read More »
Sign up for Email Updates