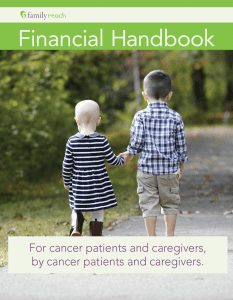 For twenty years, Family Reach has been catching cancer families before they fall through the cracks. We've stabilized housing, transportation and kept food on the table by paying bills quickly and efficiently. We've kept families afloat during their most difficult times. But recently we've been asking ourselves, what broader impact could we have if we caught families before they need us? How can we intervene earlier, upon diagnosis, and prepare families for the financial challenges they may face? These questions and our desire to create sustainable, meaningful change for cancer families across the country drove the launch of our newest resource for cancer patients: the Family Reach Financial Handbook.
Last week at the ASCO Annual Meeting in Chicago, we announced the publication of the Family Reach Financial Handbook, a resource for cancer patients and caregivers, by cancer patients and caregivers. Under the guidance of patients and caregivers who've been there, this free handbook is written specifically for families facing a cancer diagnosis. It lays out what to expect on the financial road ahead and provides tangible, empowering advice that prepares caregivers and patients to advocate for their financial health throughout their cancer journey.
The Financial Handbook is the first in a broader education program that will develop and expand based on the real needs of cancer families nationwide. If you are a cancer patient or caregiver, we are here for you. We want to hear from you. Please download the Financial Handbook and let us know how it helped you. Let us know what else you need.
We'd like to give special thanks to our inspiring Family Council – a group of former Family Reach grant recipients who have all experienced financial hardship as a result of a cancer diagnosis. Their input was critical in the development of this resource. The Family Council will continue to provide invaluable guidance, ensuring we keep real families and their real challenges center as our mission evolves and we build solutions to put an end to cancer's financial burden.
To download the Family Reach Financial Handbook, please click here.
Sign up for Email Updates