In honor of Father's Day, we are featuring the story of Michael, an admirable father of three and cancer fighter.
Michael is a hardworking, loving 32-year-old father who lives with his wife, Leslie, and their three young children. In December of 2014, Michael was diagnosed with a rare form of Non-Hodgkin lymphoma. Following a grueling and extensive treatment plan, Michael experienced a brief period of remission, sadly relapsing in early 2017.
Heading off a financial crisis
Due to the aggressive nature of Michael's disease, he required an even more intense protocol consisting of high doses of chemotherapy followed by a stem cell transplant. The frequency and length of Michael's care as well as the extreme side effects of the treatment have left Michael unable to work for the next several months. His wife, Leslie, serves as not only his caretaker but also as fulltime mother to their six-year-old daughter and three-year-old twins.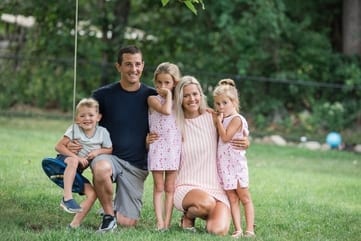 Michael's relapse has taken a toll on this young family's financial wellbeing. With a drastic decrease in income, mounting out-of-pocket costs and increasing travel expenses to and from the hospital, Michael and Leslie have found themselves in over their heads.
Regaining their footing
Their social worker at Lowell General Hospital connected with Family Reach. A grant was issued immediately, covering Michael and Leslie's mortgage and providing much needed relief to the entire family. With their housing stabilized, these parents were able to refocus their energy on what really matters: Michael's health and wellbeing.
"What you do is amazing," said the couple. "Your network has helped our family so much!"
 Help dads like Michael this Father's Day. Click here to donate.
Sign up for Email Updates