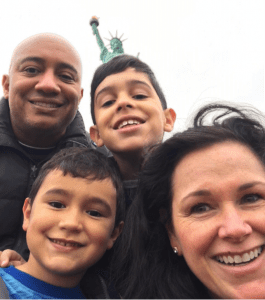 October is Breast Cancer Awareness Month. At Family Reach, we know how financially devastating this disease can be – 20 to 30 percent of women diagnosed with breast cancer will lose their jobs, 33 percent report a decline in financial status after their diagnosis. This month, we're featuring the story of Michele, a breast cancer survivor who has played a key role in giving back to other breast cancer patients through Family Reach.
Michele's journey began in January 2017 when the results of her annual mammogram came back abnormal. After a second mammogram and biopsy, the doctors gave her the news – breast cancer. It was her 48th birthday.
As she prepared for her lumpectomy in March, Michele couldn't stop thinking about the financial aspect of her diagnosis. She knew she was lucky. Not only did she have great insurance, she had an army of support through her friends and family. Michele found herself continuously worrying about the patients who didn't have such financial security.
A call to action
When Michele attended a work meeting during the week of her lumpectomy, she had no idea going into it how much it would end up impacting her life and, ultimately, the lives of so many others. Family Reach CEO Carla Tardif was there sharing her own journey with breast cancer and how Family Reach was determined to alleviate the financial burden of cancer. Michele was struck by the presentation, identifying so much with what Carla had to say. She knew she needed to get involved with Family Reach in some way or another.
Giving back
After another surgery in May, Michele reached out to Carla to see how she could help Family Reach. This led to Michele creating a fundraising page that would benefit other women battling breast cancer. She almost doubled her initial goal thanks to the outstanding support of her family and friends. Michele's efforts have helped provide financial support for two very deserving women and their families.
We're thrilled to report that Michele has recovered well from her mastectomy and received the news that all of the cancer has been removed!
"I know how lucky I am that we caught this early and that I have a job where I was able to take the time off that I needed," says Michele. "Thank goodness that Family Reach is there to help ease the financial burden of cancer for the people who need it."
Thank you, Michele, for your continued support of Family Reach's mission. We continue to keep you in our thoughts as you recover!
Sign up for Email Updates