Cooking Live! Boston, May 14, 2018
 6:00 –  10:00 pm, The Ritz-Carlton, Boston
JOIN celebrity chef Ming Tsai and a dynamic lineup of iconic chefs at the sixth annual Cooking Live! Boston. Our event will kick off with a Cocktail Hour presented by Patrón. Famed chefs Robert Bruce, Joanne Chang and Barbara Lynch will join Ming live from a pop-up kitchen spanning the front of the ballroom to prepare a multi-course dinner. This new layout means every guest will have an up-close look at the action. Local children battling cancer will join in as sous-chefs for the evening while sharing their inspiring stories of hope, determination and courage.
This year's family-style event is about celebrating our community – the roots we're proud to call our own. So pull up a seat and join us at the dinner table. It's a Cooking Live! you won't want to miss. For highlights from our 2017 Boston event, click here.
See below for new sponsorship opportunities.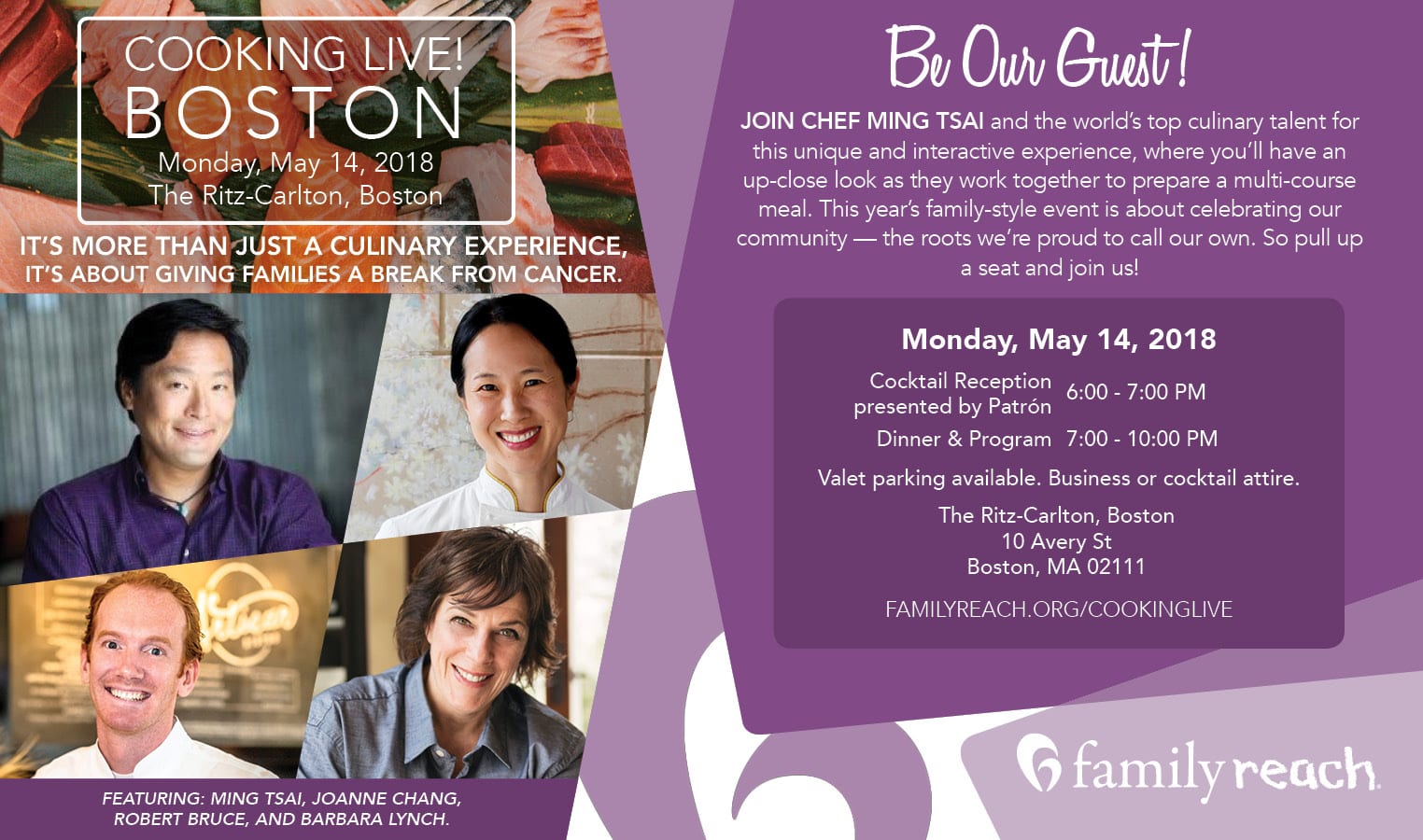 Cooking Live! Boston Sponsorship Opportunities
To Purchase click here!
Headlining Sponsorship Opportunities
PRESENTING SPONSOR – $50,000
Nationally recognized culinary event, 

Cooking Live! Boston

 presented by "Your Company"

One VIP front-row table at the event joined by a special guest (8 seats)

A once-in-a-lifetime experience for one of your guests to join Chef Ming Tsai and other celebrity chefs to plate a course

Digital brand recognition:

Pre and post event emails

Cooking Live! Boston

landing page

Event social media outreach

On-site brand recognition

Sponsor signage

Event program

Digital presentation

Recognition in all event media coverage

Celebrity chef autographed gift items for all of your guests

VIP access to the Ritz-Carlton After Party for you and your guests

A customized impact report detailing how your sponsorship supported families fighting cancer

A special tour of a Family Reach partner hospital to see our mission up close
COCKTAIL RECEPTION SPONSOR – $25,000 [SOLD OUT]
VIP cocktail reception presented by "Your Company" at a nationally recognized culinary event

One table at the event joined by a special guest (8 seats)

Opportunity to create a custom specialty cocktail co-designed with Chef Ming Tsai

Your custom cocktail will be demoed by Chef Ming Tsai during the dinner portion of the event and served as a specialty pairing with Chef Tsai's course

Custom cocktail recipe included in post-event thank you email to guests

Featured recognition in all event promotion, signage, print material and digital presentations

A once-in-a-lifetime experience for one of your guests to bartend with Chef Ming Tsai while he demos your custom cocktail

Invitations to pre & post celebrity chef hospitality lounge with private access to chefs and celebrity VIPs

Celebrity chef autographed gift items for all of your guests

VIP Access to the Ritz Carlton after party
VIP AFTER-PARTY SPONSOR – $18,000 [SOLD OUT] 
VIP After-Party presented by "Your Company" at a nationally recognized culinary event

One table at the event joined by a special guest (8 seats)

Featured recognition in all event promotion, signage, print material and digital presentations

Speaking opportunity during VIP After-Party welcoming celebrity chefs and VIP guests

Custom VIP After-Party signage

Featured recognition in all event promotion, signage, print material, digital presentations and media coverage

Celebrity chef autographed gift items for all of your guests
Table Sponsorship Opportunities
VIP TABLE SPONSOR – $20,000
One VIP front-row table at the event joined by a special guest (8 seats)

Recognition in all event print material, signage and digital presentations

Special gift provided at each place setting for each of your guests

A special tour of a Family Reach partner hospital

A lead role with the celebrity chefs or special guest
YOU CAN'T MAKE IT TABLE SPONSOR – $10,000

Zero (0) seats included with purchase
Underwrite families to attend Cooking Live! Boston to share their inspiring story and enjoy a wonderful night out
Recognition in all event print material, signage and digital presentations
Day of Event Sponsorship Opportunities
PHOTO BOOTH SPONSOR — $10,000*
Branding opportunity on print and digital photo taken home by guests

Custom photo booth sign with your logo placement

Recognition in all event print material, signage and digital presentations
*Does not include tickets to the event
DESSERT BAR SPONSOR – $5,000*
Logo placement as centerpiece of dessert bar

Opportunity to partner with dessert chef on the custom naming of a featured dessert

Exclusive branding on the dessert to-go containers used by 150+ guests

Featured recognition in all event promotion, signage, print material, digital presentations and media coverage
*Does not include tickets to the event
FAMILY FASHION SPONSOR — $2,500*
Branding opportunity on personalized letters to families fighting cancer who receive gift cards to buy outfits for the event as a result of your sponsorship

Recognition in all event print material, signage and digital presentations
*Does not include tickets to the event
FAMILY TRANSPORTATION SPONSOR — $1,500*
Branding opportunity on personalized letters to families fighting cancer who receive transportation to the event as a result of your sponsorship

Recognition in all event print material, signage and digital presentations
*Does not include tickets to the event